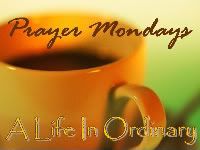 Here we are at another Prayer Monday. Yesterday, at lunch, I was reminded of God's goodness as I sat with a great majority of my extended family and had dinner. My Uncle James was healthy enough to be there to eat with us. He moves a little slower, and is still hooked up to oxygen, but his personality is back! It was such a welcome thing. And I can't help but think about all the times that we weren't sure he was going to get another day, the close to 150 days he spent in the hospital, and realize how good God really has been.
I needed that reminder. While I believe in God and know that Jesus is my Savior, I get distracted easily. I see all of the crappy things going on in the world, in my own life, and forget that God is still here. And that can be problematic. Sometimes I am so focused on the things I'm praying for that haven't happened that I forget to count all the ways that God has answered. And I don't want to forget those.
Otherwise things are still pretty quite here. I appreciate your prayers.