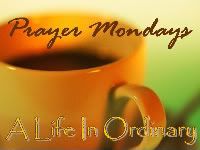 I've written before (most every week, in fact) about this crazy season of change everyone in my life seems to be going through. Change is difficult and beautiful, scary and emboldening. I'm excited to see what God is doing, and I look forward to what other blessings may come. I have to admit though, it's nice that things seem to be settling a bit in the life upheaval department.
Crys spoke about how this is her brother's last week here before he leaves for his new job. I ask for prayers him and for Sheena as they deal with being apart until the wedding. God has provided for them thus far, and I believe He will continue to. In the same vein, they would like to move before the October 7th date they have been given, so pray for that too, if you would.
I have a special prayer request that I can't give you much information about for several different reasons, but I ask that you would pray for this situation and that God will show me the way I can best be a light of His love in it.
Amber starts a new job in a new city in a new apartment and I don't think she would mind some prayers too.
Please remember that this is an open group and we would love nothing more than to lift any requests that you might have. You can link up over at Crystal's blog by clicking the button at the top of this post, or if you don't want to post, you can always leave a request in the comments here and I promise to pray with you.