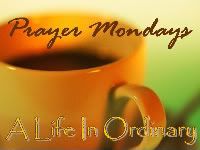 This is going to be short because I am sick (like took a sick day from work kind of sick). But I really want to ask for your prayers for Sheena and her Precious this week as they go to look for a place to live in their new city. I know that God is going to continue to provide for them. I also wouldn't mind a few prayers for the rest of us, as it became so real yesterday after her bridal shower that this is really happening, no matter how hard we (I) might try to ignore it and pretend it's not.
Still trying to figure out what's next when it comes to a church home. God's made it clear that it's time to move on, but I still don't have a lot of anwers as to what is next.
Even if I don't get a chance to comment, I want each of you to know that I am praying for you ladies as well.